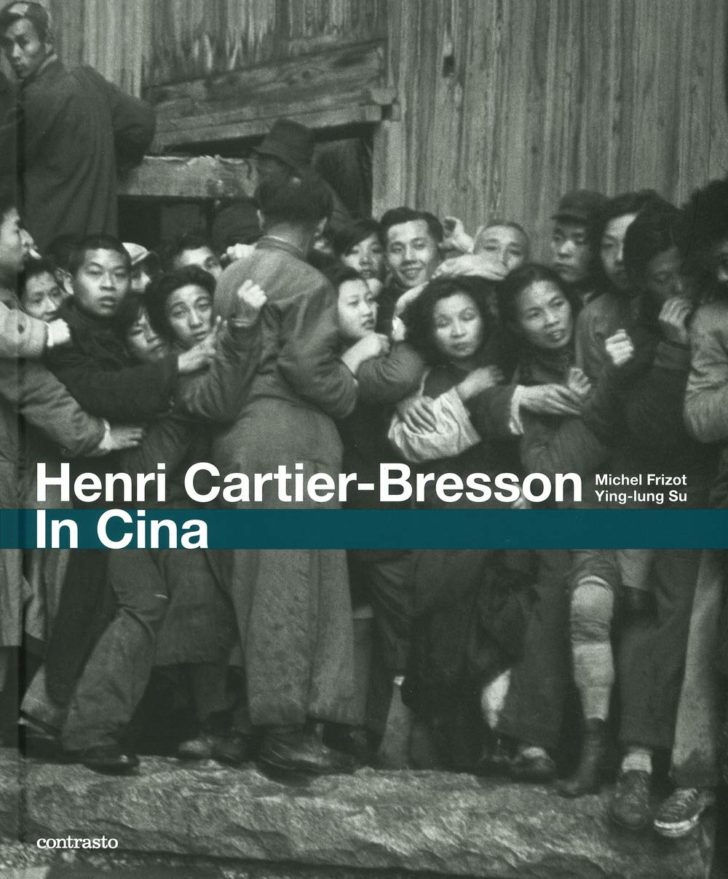 Cover of the Italian edition of the catalogue of the exhibition Henri Cartier-Bresson - Chine, 1948-49 | 1958, Contrasto, 2019.
HENRI CARTIER-BRESSON, IN CINA, 1948-1949 | 1958
Contrasto (publisher)
November, 2019 (date of publication)
ISBN ISBN 978-88-6965-792-4
288 pages
69 euros
Italian version of the official catalogue of the exhibition presented at the Fondation HCB from October 15th 2019 to February 9th 2020.
Henri Cartier-Bresson, dopo aver fondato la Magnum Photos da appena diciotto mesi, parte per Pechino per realizzare un reportage, commissionato dalla rivista americana Life, sulla caduta del governo del Kuomintang e la conseguenziale fondazione della Repubblica Popolare Cinese. Il fotografo si vede costretto a lasciare la città dopo soli dieci giorni; da lì si sposta a Shanghai e assiste al "Gold Rush" (da cui deriva il suo scatto più famoso della folla accalcata all'ingresso delle banche): decide così di trattenersi per altri 10 mesi, al fine di seguire il flusso degli eventi. Cartier-Bresson rimane folgorato dalla civiltà cinese, dalla cultura e dalla tradizione (si convertirà al buddismo) ed è anche per questo che decide di ritornarci dieci anni dopo.
Henri Cartier-Bresson in Cina ci permette di rilevare un modus operandi preciso del fotogiornalista, che documenta gli avvenimenti politici, appunta sensazioni e stati d'animo, scrive lettere ai genitori e mantiene i contatti con le più importanti riviste mondiali, collegando tutto puntualmente alle immagini. Grazie al suo sguardo profondo e partecipe, all'attenzione verso il "fattore umano", al senso di responsabilità per il ruolo del fotografo-testimone, le immagini della Cina sono straordinarie, perfette nella loro sintesi tra poesia e documentazione e confermano la grandezza dell'autore – vero "occhio del secolo" della fotografia del Novecento.
Testi
Michel Frizot e Yi-lung Su
Spedizione solo en Europa / Shipments limited to Europe.
Buy