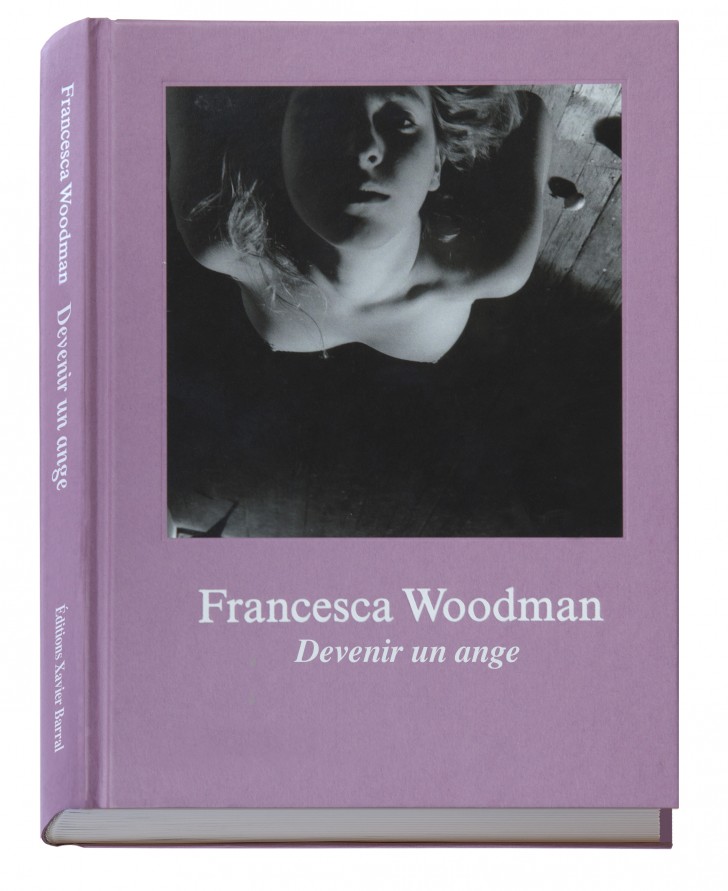 Couverture F. Woodman Devenir un ange
Francesca Woodman : Devenir un ange
Editions Xavier Barral (publisher)
May, 2016 (date of publication)
ISBN 978-2-36511-096-9
232 pages
35 euros
Extracts
« Throughout her career, the young American photographer Francesca Woodman revisited the theme of angels. In On Being an Angel (1976) she is seen bending backward as light falls on her white body. A black umbrella is perched in the distance. The following year she made a new version – an image with a darker mood in which she shows her face. Woodman developed the angel motif during a visit to Rome where she photographed herself in a large, abandoned building. In these images, she is wearing a white petticoat, but her chest is bare. White pieces of cloth in the background are like wings. She called these photographs From Angel Series (1977) and From a Series on Angels (1977). There are also a number of pictures simply called Angels (1977–78), and among them is one where again she is bending backward, but this time in front of a graffitied wall. These angels are but a few examples of Francesca Woodman's practice of staging her body and her face. » Anna Tellgren
« That which is striking and inspiring in Woodman's work is rather its power and richness of expression. It elates me, that power – raging, cheeky, playful, tender, dreamy, melancholic, defiant, humorous, aching, investigative and lively. Woodman stages and narrates, she takes up space in a room. (Her pictures take place.) Also in time, her pictures are like shards of stories, they extend beyond the print, deep into the viewer. She aligns herself with the greater story that we call our cultural history through countless references to famous works, myths and motifs, which she presents in her own way. (Lilies, the swan, snakes/eels, slender birch trunks, angel's wings – motifs that are connected to this matter of being a woman, of wearing a female body, and that in Woodman's interpretations become something entirely new and surprising.) It's not simple; there is great pain in this examination. Being honest with yourself often hurts, but it's the only way if you take your task seriously.» Anna-Karin Palm
Foreword by Agnès Sire, essays by Anna Tellgren, curator, Anna-Karin Palm, swedish novelist and George Woodman, the artist father.
English version co-published by Moderna Museet and Koening Books
17 x 23.5 cm
105 illustrations
More info about the exhibition Francesca Woodman, On Being an Angel
Shipments to Europe only.
Only available in French.
Buy