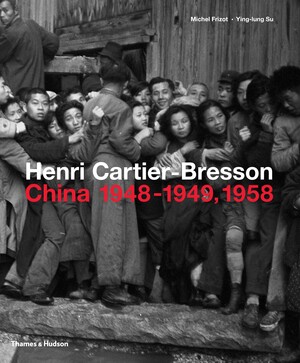 Cover of the English edition of the catalogue, Thames & Hudson, 2019.
Henri Cartier-Bresson, China, 1948-1949 | 1958
Michel Frizot et Ying-lung Su (author)
Thames & Hudson (publisher)
October, 2019 (date of publication)
ISBN 9780500545188
288 pages
65 euros
English version of the official catalogue of the exhibition Henri Cartier-Bresson, Chine 1948-1949 | 1958 at the Fondation HCB, Paris, from 15 October 2019 to 9 February 2020.
In December 1948, Henri Cartier-Bresson travelled to China at the request of Life magazine. He stayed for ten months and captured some of the most spectacular moments in China's history: he photographed Beijing in 'the last days of the Kuomintang', and then headed back to Shanghai, where he recorded the new regime's takeover. Moreover, in 1958, Henri Cartier-Bresson was one of the first Western photographers to go back to China to explore the changes that had occurred over the preceding decade. The 'picture stories' he sent to Magnum and Life on a regular basis played a key role in Westerners' understanding of Chinese political events. Many of these images are among the most significant photographs in Cartier-Bresson's oeuvre; his empathy with the populace and sense of responsibility as a witness making them an important part of his legacy.
Henri Cartier-Bresson in China allows these photographs to be re-examined along with all of the documents that were preserved: the photographer's captions and comments, contact sheets and abundant correspondence, as well as the published versions that appeared in both American and European magazines. A welcome addition to any photography lover's bookshelf, this is an exciting new volume on one of the 20th century's most important photographers.
Texts (in English)
Michel Frizot and Yi-lung Su
Shipments to Europe only.
Buy