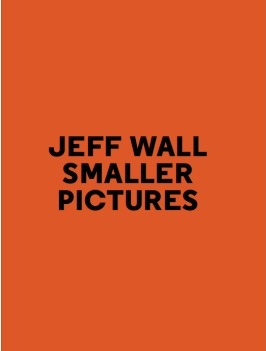 Jeff Wall, Smaller Pictures
Jeff Wall, Smaller Pictures
Editions Xavier Barral (publisher)
September, 2015 (date of publication)
ISBN 978-2-36511-078-5
108 pages
19 euros
Official catalogue of the exhibition Jeff Wall, Smaller Pictures at the Fondation Henri Cartier-Bresson, Paris, from 9th september to 20 december 2015.
The book brings together a set of works, selected by the artist and devised from the outset in small formats. Through a chronological sequence from the early 1970's until today, we observe the sharpness and precision of Jeff Wall's approach all the better here, with all of his passion for Art History and his broad knowledge of painting. Alternating points of view between a « wandering »  approach for the photo-text essay Landscape Manual of the early 1970's, carefully composed subjects on lightboxes with Diagonal Composition (1993), and more intimate themes with Torso (1997) printed on paper.
An essay by French critic and historian Jean-François Chevrier along with an interview between Chevrier and the artist enlighten us on the multiple facets of this work.
Photographs
Jeff Wall
Texts (in French)
Texts by Agnès Sire and Jean-François Chevrier
Conversation between Jeff Wall and Jean-François Chevrier
19 x 24 cm
46 photographs colour and black and white
Shipments to Europe only.
Only available in French.
Buy