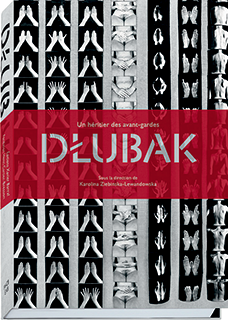 Catalogue of the eponymous exhibition, Editions Xavier Barral.
Dlubak, Héritier des avant-gardes
Éditions Xavier Barral (publisher)
January, 2018 (date of publication)
ISBN 978-2-36511-166-9
256 pages
39 euros
This monograph on Zbigniew Dlubak brings light on one of the most influential figures of the post-war Polish artistic scene. Inspired by surrealism, Dlubak has, from his beginnings in 1948, challenged the codes of traditional photography.
Through images and texts, the monograph presents the scope of Dlubak's work in six thematic sections going back and forth between painting and photography, abstraction and figuration. The camera enabling him to penetrate the core of realism and reveal the supernatural in our daily life not visible to the naked eye.
At the end of the publication, two essays (in French) examine transitional moments in his career: Eric de Chassey on the year 1948 as a starting point in his work within the historical and artistic context of the time and Karolina Ziebinska-Lewandowska focuses on the year 1970 and Dlubak's relation to conceptual art when he co-founds the Permafo gallery and magazine.
Hardcover, 17 x 24 cm
256 pages, 227 B&W photographs
31 drawings and paintings 
Edited by Karolina Ziebinska-Lexandowska
Texts (in French) :
Karolina Ziebinska-Lexandowska, Eric de Chassey
Shipments limited to Europe.
Buy