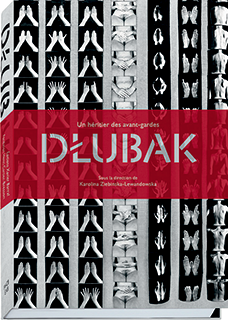 Catalogue of the eponymous exhibition, Editions Xavier Barral.
Dlubak, Héritier des avant-gardes
Éditions Xavier Barral (editeur)
January, 2018 (parution)
ISBN 978-2-36511-166-9
256 pages
39 euros
Catalogue officiel de l'exposition Martine Franck à la Fondation Henri Cartier-Bresson, Paris, du 17 janvier 2018 au 29 avril 2018.
« La photographie est en phase avec le rythme de la vie. Avec impatience elle cherche de nouvelles images. […]  » 
Zbigniew Dlubak
Cet ouvrage, le premier en français sur Zbigniew Dlubak, nous fait découvrir l'une des figures les plus influentes de la scène artistique polonaise d'après-guerre. Inspiré par le surréalisme, Dlubak a, dès ses débuts en 1948, bousculé les codes de la scène photographique traditionnelle.
À travers images et textes, l'ouvrage présente son travail en six parties thématiques (développées plus loin) alternant entre peinture et photographie, abstraction et intensification du réel où l'appareil photo lui permet de révéler le merveilleux qui nous entoure et que l'on ne pourrait déceler à l'oeil nu.
À la fin de l'ouvrage, deux essais examinent les moments charnières de son oeuvre : l'historien et critique d'art  Éric de Chassey prend comme point de départ l'année 1948 et replace son travail dans le contexte historique et artistique de l'époque tandis que Karolina Ziebinska-Lewandowska s'intéresse plus particulièrement à l'année 1970 et au rapport de Dlubak à l'art conceptuel alors qu'il co-fonde la galerie et la revue Permafo.
Photographies
Par Zbigniew Dlubak
Textes
Préface d'Agnès Sire et Xavier Barral
Textes d'Éric de Chassey
Sous la direction de Karolina Ziebinska-Lewandowska
17 x 24 cm
27 photographies noires et blanches et 31 dessins et peintures
Plus d'informations sur l'exposition « Dlubak, Héritier des avant-gardes »
Envoi en Europe uniquement.
available at the bookstore