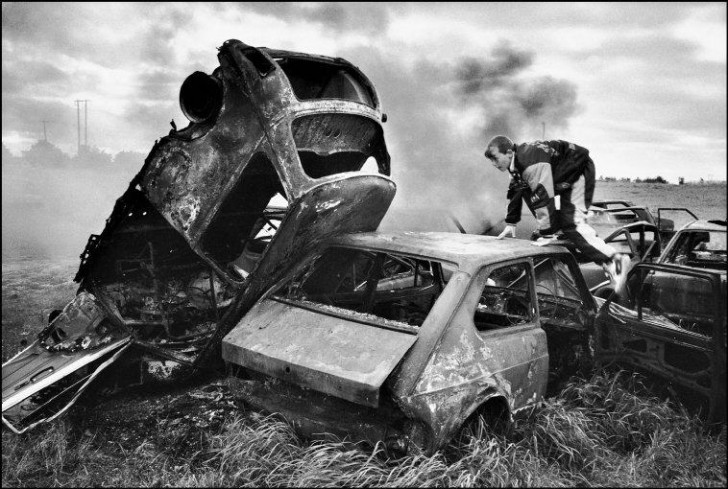 Cimetière de voitures volées, Darndale, Dublin, Irlande, 1993 © Martine Franck / Magnum Photos
Prints
Since Henri Cartier-Bresson's death in 2004 and Martine Franck's in 2012, none of the photographers' prints have been produced for sale. Nevertheless, signed prints produced before their deaths regularly circulate amongst a variety of galleries and auction houses. The Fondation HCB offers a complementary expert-run print verification service as well as official certificates of authenticity.
While a number of Henri Cartier-Bresson's photographic prints are currently available on the market, only those printed by Henri Cartier-Bresson in the 1930's and signed by the photographer himself are intended for collections.
In a letter written in 2000, Henri Cartier-Bresson explains:
"I, Henri Cartier-Bresson, residing in Paris at 198 rue de Rivoli, 75001, declare the following – I have always signed and dedicated my photographic prints to those whom they are offered to – all other prints marked with a "Magnum Photos" stamp or my name, "Henri Cartier-Bresson", are exclusively my personal property.
All persons in possession of the later cannot be considered the true proprietors of these prints.
Paris, October 30th, 2000
Henri Cartier-Bresson"
If you would like to know the nature and value of your Henri Cartier-Bresson's print, please contact the Collections Curator: aude.raimbault@henricartierbresson.org.