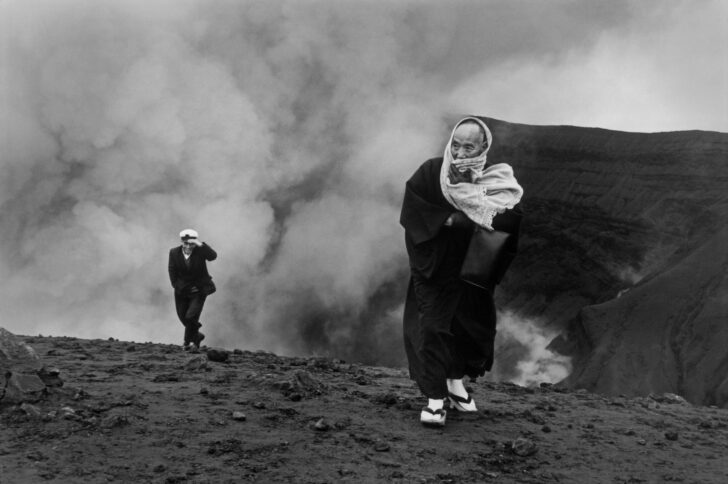 Mont Aso, Japon, 1965. © Fondation Henri Cartier-Bresson / Magnum Photos
24 November, 2021
Henri Cartier-Bresson at the Mohammed VI museum, Rabat, Morocco
From 24 November 2021 to April 18 2022
Nearly 22 000 visitors!
For the first time on the African continent, an exhibition is dedicated to Henri Cartier-Bresson! It is presented until 21 February 2022 at the Mohammed VI Museum of Modern and Contemporary Art in Rabat, Morocco.
At the end of the 1970s, Henri Cartier-Bresson and his publisher Robert Delpire decided to produce a book and an exhibition covering his entire career, which would be called "Henri Cartier-Bresson Photographer". It is an undisputed reference on the career of the photographer who travelled the world with the sole obsession of concentrating in one image a feeling about what he saw and a set of lines. Small and large history, portraits, landscapes: from his beginnings at the end of the 1920s with the surrealists in Paris, to Africa and Asia where he stayed for two years.
This collection of 133 photographs concentrates the best of the photographer's work, who at that time had decided to return to drawing and painting, his first loves. Through this body of work, which brings together images taken between 1926 and 1978, the man who has often been called "the eye of the century" presents us with his intimate vision of a world whose landscapes he travelled through and whose actors he met: artists, writers, anonymous people, but also urban or bucolic landscapes, not forgetting the vagaries of the unavoidable historical events he witnessed.